In the pantry
We stock everyday, non-food items, things that the Food Stamp program does not cover. Items include the following:
Laundry detergent
Toilet paper
Trash bags
Dish detergent
Pine cleaner
Soap pads
Paper towels
Shampoo
Feminine hygiene products
Toothpaste
Toothbrushes
Deodorant
Bar soap
Shaving cream
Razors
Bandages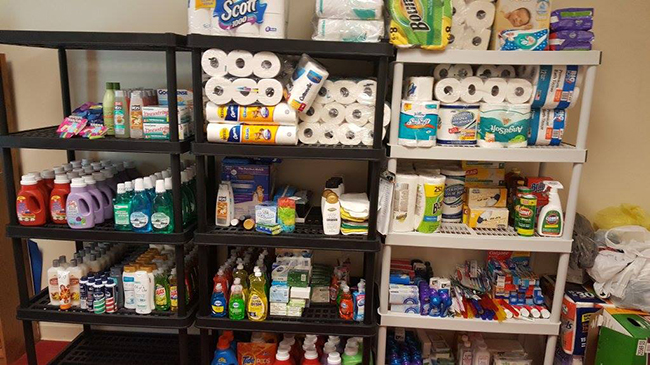 NON-FOOD PANTRY
NOTE: DUE TO COVID-19, THE PANTRY IS CLOSED FOR NOW.
There are everyday items that many individuals and families struggle with trying to purchase that are not covered by Food Stamps. Everyday items that many of us take for granted like laundry detergent, toilet tissue, tooth paste or even a bar of soap.
Our Pantry provides these resources free of charge to primarily Food Stamp recipients and those who qualify. Verification done by the Adult Services Intake Office of the Gaston County Health and Human Services Department.
Contact: Jeffery Adams at 704-830-8029 or 704-866-9074.
Starla Littlejohn at 704-562-4449
DUE TO COVID-19 ISSUES THE NON-FOOD PANTRY IS CLOSED FOR NOW. WE'LL LET YOU KNOW WHEN WE CAN SAFELY REOPEN.